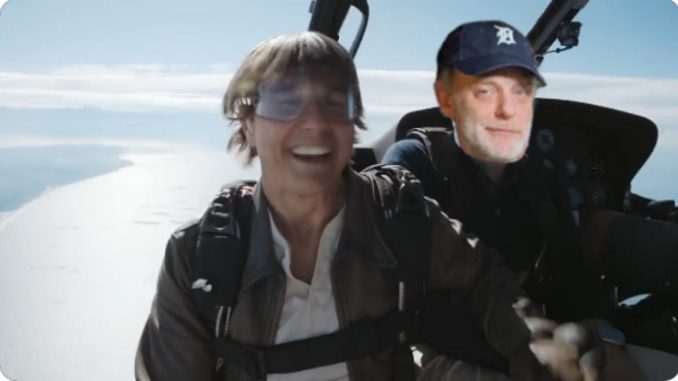 Podcast: Play in new window | Download (Duration: 2:56:47 — 162.3MB)
Tom Cruise's ad for Tom Cruise, EXCLUSIVE: new Jason Carr tapes, Eli Zaret joins us as the Detroit Lions win again, Donald Trump sells out his NFTs, remembering Gallagher, and Drew bids to renovate Oakland Hills.
Eli Zaret Zooms in to discuss the Lions victory, the Minnesota Vikings biggest comeback victory in NFL history, Argentina winning the World Cup, white basketball players, the Detroit Tigers adding Matt Boyd, JD Martinez to the Dodgers, and his take on Jason Carr firing from WDIV.
Elon Musk banned (and then unbanned) a bunch of journalists for 'doxxing' him. His ownership of Twitter is making everybody fight with each other.
Movies: Drew finally watched The Replacements. Drew finally watched The Whole Nine Yards. Drew also watched Any Given Sunday for 2 hours and 42 minutes. We remember… The Program.
Sam Bankman-Fried was a donor to Debbie Stabenow and she is going to give the money to charity for a write-off.
MSU is still getting called out for now explaining why former Business Dean Gupta was fired. Who would go to portrait ceremony… especially for former MSU President Lou Anna Simon?
Other Sports: The guy who caught Aaron Judge's 62nd homerun turned down $3M for the ball only to auction it off for… $1.5M. WOMP WOMP! Nobody disrespects Amar'e Stoudemire's grandma. Not even his daughter.
Oakland Hills Country Club is planning an $80M renovation following the great fire of 2022. Some people are saying they are overpaying.
Social media is dumb, but we're on Facebook, Instagram and Twitter (Drew and Mike Show, Marc Fellhauer, Trudi Daniels and BranDon).