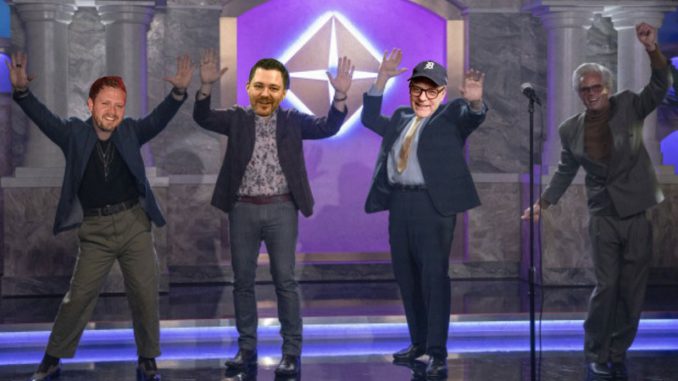 Podcast: Play in new window | Download (Duration: 3:33:43 — 98.0MB)
Walton Goggins aka 'John Bronco' joins us, Sarah Fuller makes HERstory again, Dr. Jill Biden v. an op-ed, Shia LaBeouf accused of sexual assault, Red House update, SNL, and Drew fights technology.
Walton Goggins joins us to promote John Bronco and discuss his career, Tarantino flicks, Danny McBride comedies, religious roles and much more.
Tyler Perry is very charitable especially if you are his friend like Carl Lentz and former British royalty.
Keyontae Johnson collapsed on the court and it was a scary reminder of Hank Gathers, Reggie Lewis and others.
Sarah Fuller scored a point in one of the most historic moments in sports history. Her male teammate made a Field Goal too. Twitter was angry.
Joe Epstein must listen to the podcast as he tossed out an op-ed in the Wall Street Journal telling Dr. Jill Biden to drop the doctor moniker since she can't write 'scripts. Twitter was angry.
A few weeks back any reporting of Hunter Biden's laptop was deemed irresponsible and now it's no biggie.
The Stop the Steal rally in D.C. went great. Mike Lindell has turned his back on Fox News after they turned their back on Trump.
Kate McKinnon played a guy on SNL again and people pretended it was funny. The 'Rona family Christmas skit was pretty good.
Some people are saying you may be able to check out The Drew and Mike Show segment of the History of WRIF soon.
Check out the latest No BS News Hour with Charlie LeDuff. Meanwhile, ML Elrick wrote a really long and well told story on Mike Duggan.
Drew discovered Melissa Villaseñor on SNL… and then found out she had to deleted terrible social media posts.
Follow us on Facebook, Instagram and Twitter (Drew and Mike Show, Marc Fellhauer, Trudi Daniels and BranDon).