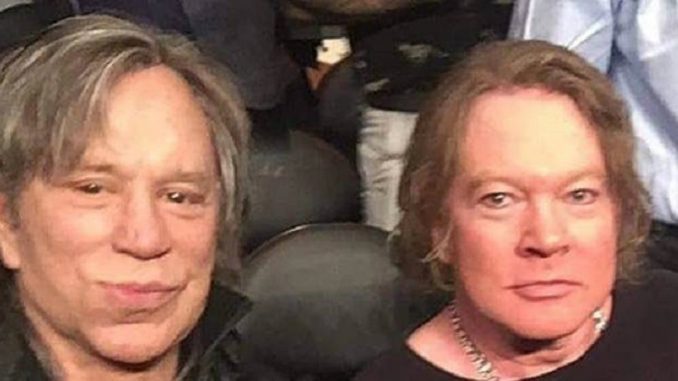 Podcast: Play in new window | Download (Duration: 2:03:33 — 71.1MB)
Trudi Daniels (@TrudiDan) and Marc Fellhauer (@MarcFell) are here today!
Mickey Rourke & Axl Rose – just 2 gals hanging out, RIP Jessica Starr, Gary Graff on the new Rock & Roll Hall of Fame members, Eli stops by to gross us out, God loves Lambo's, Tommy & Brandon Lee make up and Lil Tay breaks her silence.
Fox 2 had an understandably terrible morning as they had to report on the suicide of meteorologist Jessica Starr.
The radio is currently flooded with terrible Christmas music. There's only one way to make it better.
Somebody caught a picture Axl Rose & Mickey Rourke looking like 2 of the Golden Girls at a boxing match in the Staples Center.
We're calling Mr. Big Stuff, Gary Graff, to talk about the recent inductions to the 2019 Rock & Roll Hall of Fame which included Def Leppard, Radiohead and the Zombies.
Eli is in studio to tear down the various sports halls of fame & the disrespect of fans by major league teams.
Mike Tyson is joining the green rush & opening up a recreational weed store.
Lil Tay has broken her silence to tell everybody she dropped out of school because she's now too famous & fears being mobbed… and that her toilet is worth more than your rent.
God helped a South Carolina pastors dream come true when he helped him to purchase a Lamborghini SUV for their 8th anniversary.
Trudi was watching more Leah Remini last night & finding out that the Jehovah's Witnesses have quite a bit in common with Scientology.
Jonah Stillman is now bossing GM around. Jonah has some new competition with the very angry Jason Dorsey, who has also got in on the whole Gen Z scam.
BranDon interrupts the show in a very Mazawayesque way to thank Drew for a baby gift & announce his 404 month birthday.
Your Bhad Bhabie news: A marriage that's sure to last forever started with a surprise proposal at a Bhad Bhabie concert in Australia. TIME's list of the 25 most influential teen s includes a range from the Parkland students to Bhad Bhabie. After listening to her latest single Drew has decided he's been missing out & is going to get on the Bhad Blabby train.
Chris Watts gay hooker boyfriend Trent Bolte did an interview about their steamy love affair despite Chris' alleged confusion about his sexuality.
It seems like everybody has flipped on President Trump. After Michael Cohen caught a 3 year sentence the National Enquirer decided to cooperate with the Trump investigation.
More allegations of sexual misconduct against Leslie Moonves are being made Cybill Shepherd who alleges that Leslie cancelled her show after she turned rejected his advances.
Just in time for the holidays Tommy & Brandon Lee made one of the softest reconciliation declarations ever on Instagram.