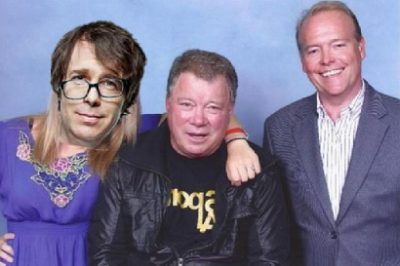 Podcast: Play in new window | Download (Duration: 2:22:30 — 65.7MB)
Trudi Daniels (@TrudiDan) & Marc Fellhauer (@MarcFell) are here today!
Ben Folds joins us, William Shatner's biological son tells us about the battle to have his name changed, Charlie Sheen's ex Brooke Mueller is a mess, Mateen Cleaves trial and everyone's a critic on the Bonerline.
Marc wants to fast forward to the end of the show so he can finish the rest of The Boys on Amazon Prime.
The listener who bagged on his sister for 'working' at DTE wrote in to give an 'apology' for ragging on her so hard.
Somebody emailed Drew about a head on collision with a crazy driver who got out & assaulted him while 911 was busy putting him on hold. Similar to the tragic story of Tyler Wingate. ML Elrick covers his murder in the new Soul of Detroit episode.
The defense of the man who picked up a kid & slammed him on his head during the National Anthem was that President Trump told him to do it.
El Paso survivors didn't want to meet with President Trump, but for some reason, they did have to meet with a slew of other politicians.
Ben Folds calls the studio to plug his upcoming gig at Meadowbrook this Sunday, his new book A Dream About Lightning Bugs & working with William Shatner.
It's the 50th anniversary of The Beatles crossing Abbey Road & Drew wants to quickly brush past the fact that he went to cross the street there too.
Orodell Walker Jr. got arrested at the EZ Rest Motel in Southfield on sex trafficking charges after a 14-year-old girl he was abusing escaped & got police.
We call Peter Shatner, the biological son of William Shatner, to talk about his dad, congratulate him on getting his name changed & find out about Peter Shatner's Dance Party.
Drew gets a bit of a break from his usual beating on this week's Boner line. Be sure to call or text (209)66-BONER & try not to bum Drew out too much.
A dude took an unfortunate selfie of himself sitting on the toilet in the women's room trying to figure out the best angle to spy on unsuspecting ladies.
Stephen Ross, owner of the Miami Dolphins, SoulCycle & Equinox gym decided to hold a fundraiser for President Trump & instantly tank his brands.
The El Paso shooters Mom supposedly called police to find out if her son was legally allowed to have the gun that didn't appear to know how to use.
Despite Drew decreeing that nobody can email in about the mass shooting discussion, he received a few friendly emails telling him to calm down & obtain some common sense.
Charlie Sheen's ex-wife Brooke Mueller has been caught on tape talking about getting some meth & heroin while her kids waited at a restaurant with 2 strangers.