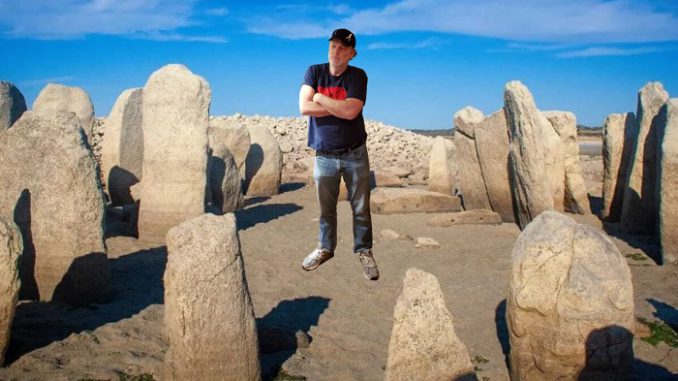 Podcast: Play in new window | Download (Duration: 3:10:32 — 153.1MB)
Spanish Stonehenge underwhelms, DTE power outages, WATP Karl covers the divas on Archetypes, Eli Zaret drops in, Ring Doorbell shooting, Mikhail Gorbachev dies, Brady Hoke on the Punt God's rape allegations, and the non-bromance between Obama & Biden.
Drew's house is one of the only houses in Michigan with power. Alex Anzalone is officially a Michigander.
Eli Zaret drops by to brag about working with Jeff Daniels, complain about college football before it even begins, Albert Pujols chasing 700, recap Hard Knocks, the LIV's latest crop of players and more.
Drew Crime I: A grand jury in Ohio declines to bring charges against a father who shot and killed his daughter's ex-boyfriend. It was all caught on his Ring Doorbell.
Grab your EXCLUSIVE NordVPN Deal by going to nordvpn.com/dams to get up a Huge Discount off your NordVPN Plan + 4 months for free! It's completely risk free with Nord's 30-day money-back guarantee.
NFT News: We almost lost John Wall, so Marc's NFT is skyrocketing in price. Tekashi69 has entered the NFT game.
WATP's Karl Hamburger joins the show to promote his September 30th live show in Ferndale, destroy Meghan Markle's Archetypes podcast featuring Mariah Carey, and force us to listen to clips of another Bowen Yang podcast, Clown Parade, and complain about how his Buffalo Bills handled 'Punt God'.
Drew Crime II: Safeway shooter Ethan Miller was a total loser who had all the typical warning signs. Miller's buddy is ALSO a murderer.
The Girls Next Level podcast features Holly Madison and Bridget Marquardt dishing about nailing a really old and now dead Hugh Hefner.
Politricks: Joe Biden is ready for his speech: 'The Battle for the Soul of America'. Kamala Harris totally explains who is paying for the Student Loan Forgiveness. Drew read up on the Obama-Biden relationship in 'The Long Alliance: The Imperfect Union of Joe Biden and Barack Obama'.
Drew Crime III: Kaitlin Armstrong's new chin looks great.
Chris Rock turned down an offer to host the 2023 Oscars… but is in trouble for an OJ Simpson metaphor.
Britney Spears won't do an interview with Oprah because she can't stand to be challenged by anything.
Matt Araiza still has not been charged. SDSU's Brady Hoke and JD Wicker don't want to talk about it. Punt God's parents have made a statement.
Social media is dumb, but we're on Facebook, Instagram and Twitter (Drew and Mike Show, Marc Fellhauer, Trudi Daniels and BranDon).