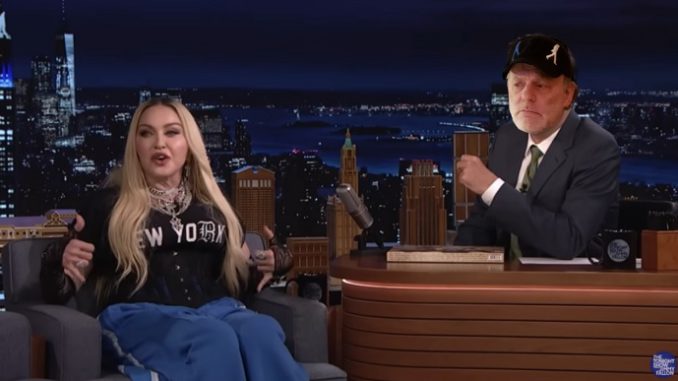 Podcast: Play in new window | Download (Duration: 3:02:20 — 146.5MB)
Embarrassing Madonna, Yaqub Talib turns self in, Bill Maher v. casting police, our trolls, Corey Feldman's new single, Eli Zaret stops by, and we go down the Cameo rabbit hole.
Trudi rocked the Red Hot Chili Peppers last night and may or may not have seen Flea's weiner (NSFW).
Eli Zaret drops by to show us Carmen Harlan talking about woodies, watch Yaqub Talib kill a guy, harp on Deshaun Watson, Fernando Tatís Jr.'s ringworm, demand Chris Ilitch sell the team, chat Hard Knocks, fawn over Kenny Pickett and more.
Politricks: Donald Trump is raging in the polls since he's been raided. A fatwa has been issued for him and Mike Pompeo. Alex Jones rolls on. Roy Moore won $8.2M in a defamation suit.
Boner-Makers: Demi Moore sends temperatures soaring. Madonna is sporting grills… at age 63-years-old. Some people are saying David couldn't wear this outfit in his native country. Julia Fox needs to stop. Just stop. Who will Kim Kardashian nail next? Adele is super sorry about the Las Vegas fiasco. Lizzo looks radiant in a wedding gown. Paris Hilton's mom thinks she looks like Precious.
Spiderman's Tom Holland needs a mental health break from social media. He announced this on social media.
Tommy Lee is taking advantage of his dong pic. Buzzfeed compares Tommy Lee to Britney Spears. His sons are a hot model team.
A brand-new Corey Feldman song has dropped. He'll be in town soon, but won't return our requests for an interview.
Cameo: Joey Lawrence has hair and did the WHOA!!! Joey Harrington is on Cameo now. Barry Switzer will talk for hours.
Social media is dumb, but we're on Facebook, Instagram and Twitter (Drew and Mike Show, Marc Fellhauer, Trudi Daniels and BranDon).