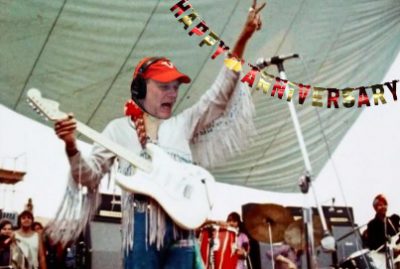 Podcast: Play in new window | Download (Duration: 2:24:26 — 66.6MB)
Trudi Daniels (@TrudiDan) & Marc Fellhauer (@MarcFell) are here today!
Woodstock's 50th anniversary, Jeffrey Epstein's autopsy results, Royal Oak PD stop black man for 'looking suspiciously' at woman, Michael Sanchez breaks his Bezos silence, one last shot at Monkeemobile Mel for Dream Cruise and remembering Mike Clark's last call to the show.
It's Dream Cruise weekend, so BranDon is planning a trip to the zoo with 5 babies to be right in the heart of things.
It's the 50th anniversary of Woodstock, the biggest music festival of the time that just barely got pulled off. Wavy Gravy wasn't quite Hell's Angels, but someone still decided to appoint him as 'security person' for the first Woodstock.
Trudi is going to be celebrating her birthday at the Battle of the Bands at Kid Rock's Made In Detroit restaurant because she still can't say no to anything.
Autopsy results from Jeffrey Epstein's 'suicide' have spurred more conspiracies in what continues to be one of the most mismanaged high profile cases of all time. The flags at orgy island is flying at half staff.
After exhausting all other possible revenue streams, Tori Spelling managed to successfully reboot 90210 & is about to go into negotiations for a second season.
Leah Remini's A&E series on the cult of Scientology is set to end due to legal pressures from the 'Church', but before it ends… she's taking Danny Masterson down with her in a 2-hour special on DJ Donkey Punch.
ML Elrick's Soul of Detroit covered the biggest conspiracy theory in Detroit history- the Manoogian mansion 'wicked nude' party.
With the Woodward Dream Cruise this weekend, we make one last attempt at patching things up with Monkeymobile Mel.
Todd Chrisley bought his daughters sex tape in an alleged attempt to blackmail her into testifying properly in his upcoming tax evasion case.
Michael Sanchez broke his silence to deny his involvement in the leaking of the Jeff Bezos dick pics.
Beverly D'Angelo, Scott Ian, Ray Lewis & Dennis Rodman are the latest talents that are in need of some Cameo cash.
Dennis Rodman had Jessy Taylor, the influencer who is nothing without her social media, on his podcast.
Some white chick called 911 on a black dude in Royal Oak for looking at her while he was walking into a restaurant.
The ESPN top 50 college football programs of all-time has been released just 2 weeks before the season starts up.
#BoycottCVS is trending on Twitter partially because of their new policy on shipping birth control pills, but mostly because of the company's recent donations to Trump's 2020 campaign.
Dale Earnhardt Jr. & his family managed to survive a plane crash at a Tennessee airport, which reminds BranDon of Captain Beebo & the stolen plane.
It's the 1 year anniversary of Mike W. Clark's last appearance on the podcast. RIP Planeman, we miss you.