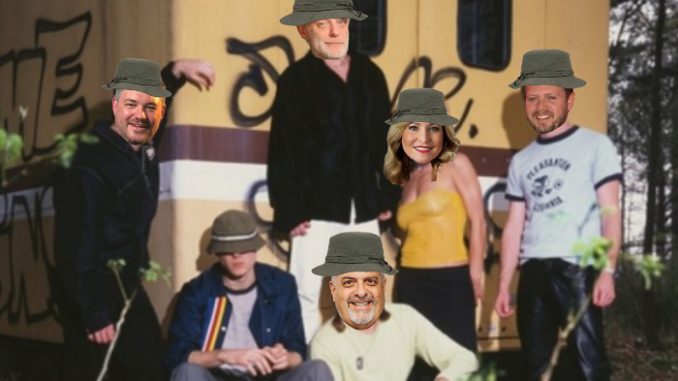 Podcast: Play in new window | Download (Duration: 2:30:04 — 137.8MB)
New Radicals deep dive, K-Fed posts videos of Britney's bad parenting, Tommy Lee's new dong shot, Rosita is missing at Sesame Place, Anne Heche toxicology, Bonerline calls, 8/11 anniversary, and Tom Mazawey's wobbly takes, Top 5 Baseball Swings & Favorite Celeb Sex Tapes.
Female Celebrities "Sending Temps Soaring": Melanie Griffith. Tiffani Amber Thiessen. Courtney Love. Christina Aguilera. Mark Wahlberg's daughter. Kesha. And… Wendy Williams?
K-Fed posted videos of crazy Britney Spears arguing with her kids. Sam Asghari thinks her teenage sons should be proud of her nudes pictures. Britney is also now in trouble for being a racist.
Music: Drew did a complete deep dive on Gregg Alexander and the New Radicals. He also put together a list of bands that has some success despite only one album. We miss Wesley Willis.
Grab your EXCLUSIVE NordVPN Deal by going to nordvpn.com/dams to get up a Huge Discount off your NordVPN Plan + 4 months for free! It's completely risk free with Nord's 30-day money-back guarantee!
Out long national nightmare is over now that BranDon has internet now. Please stop sending him the story of the go getter in Scio Township that fixed the same issue all by himself.
We interrupt Tom Mazawey's dinner to breeze past Al Avila's firing, the start of the Lions 2022 season, say nothing about the Kobe Bryant picture trial, speculate why Tom Brady had to leave practice, Tom Izzo's brand-new contract, take Trevor Bauer's side (then immediately change his position), predict Deshaun Watson's suspension, add nothing to the 2022 World Cup, his LLWS hot takes, cry about the Derek Jeter documentary, give his top 5 swings in baseball history, comment on Pete Rose's great day, list his favorite celebrity sex tapes and more.
Merrick Garland held a presser today regarding the Donald Trump raid. Lenny Dykstra doxxed the federal judge (the same judge linked to Jeffrey Epstein). FBI Christopher Wray is getting death threats.
Ellen has NOTHING to say about her ex-girlfriend's accident. Rosie O'Donnell is really sorry about Anne Heche jokes she told 20 years ago.
Fun Governor, Darren Rovell, tries to debunk the Cal Ripken Jr. vs Kevin Costner urban legend but we don't believe him. Top 5 Kevin Costner movies, GO!
Ezra Miller's pronouns make every article about him difficult to read. The mom and kids that were living with him are missing.
Social media is dumb, but we're on Facebook, Instagram and Twitter (Drew and Mike Show, Marc Fellhauer, Trudi Daniels and BranDon).