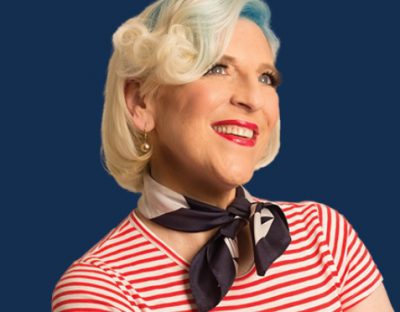 Podcast: Play in new window | Download (Duration: 2:45:59 — 114.4MB)
Trudi Daniels (@TrudiDan) & Marc Fellhauer (@MarcFell) are here today!
Lisa Lampanelli call in & pulls no punches, revisiting Ray & Pete, ex-MSU football players' sweetheart plea deal, Frank Stallone's still alive & Drew needs to watch happy videos.
John Daly parks his RV at the nearest Hooters & runs a merch booth out of it on his downtime… as seen in the old 30 for 30.
Lisa Lampanelli is calling the studio to talk about her show at the Motorcity Casino Soundboard April 19th, taking the C word back, being too big for podcasts, weight loss, attending her ex husband Jimmy Big Balls' wedding, not being #MeToo'd, audience interaction & being self-employed, Trump & the Celebrity Apprentice.
Show Meeting: what do you put on a DMP billboard?
Chad Channing was the drummer of Nirvana before Grohl but bailed before they hit it big. He has no regrets & apparantly 3 phone numbers.
Things that blow: Frances Cobain released her first self filmed music video, T-Shirt time tonight with a 2 hour Jersey Shore special & the long list of ridicKalous celebrity child support cases including Federline, Cabrera, Presley & Cobain.
Bill O'Reilly paid millions of dollars to get people to shut-up & now we learn the strict conditions behind the astronomical payouts… even if we already knew them.
Hillary Clinton is taking credit for pushing the #MeToo movement forward but social media isn't buying it.
President Trump commented on the Stormy Daniels story for the first time just to say he doesn't know about the Stormy payoff.
Marc is getting tons of extra lives from his HQ referral code.
Seeing Dr. Evil on Fallon remined us to check up on Verne Troyer who was recently in the news. We hope he's alright alright alright alright.
Remember that Bobbitt documentary that asked us for information?  It's officially announced & it's about Lorena.
MSU Football rape case plead down to seduction of an unmarried woman which carries no sex charge implications.
Police killed an unarmed man who was holding an actual gun shaped object & took an offensive stance with the object against police.
The YouTube shooter didn't have mental health problems & was all about peace but somehow still ended up injuring 3 & killing herself.
We check out some comments on Ariel Winter, Emily Ratajkowski & Allison Williams' provocative Instagram photos.
This one-armed left handed catcher is pretty amazing!  Drew makes a list of "happy" videos he needs to start his day.