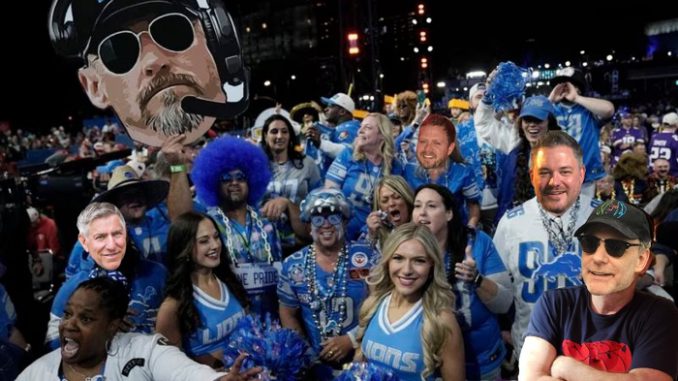 Podcast: Play in new window | Download (Duration: 3:01:58 — 167.0MB)
NFL Draft recap: picks & extracurriculars, Eli Zaret drops by, Thomas Markle breaks his silence, Louder with Crowder's divorce, Shifty Shellshock's bad week, Stephanie Mead's Fox 2 debut, Mötley Crüe NFL Draft concert, and the best 1-900 celebrity phone lines.
We See It Eli Zaret's Way on NFL Draft fashion, NFL Draft in-person fans, incorrect mock drafts, the Detroit Lions' selections, Marc vs. Jared Goff, Lamar Jackson's new contract, Aaron Rodgers to the New York Jets, Will Levis' hot (soon to be ex) girlfriend, the Jonas Brothers draft cameo, Canadian Influencer Josh Richards show stealing moment, Olivia Dunne's Sports Illustrated Swimsuit Edition debut, Jalen Carter's big d***, Lukas Van Ness' dad playing grab-a** with his girlfriend, the Detroit Pistons #1 overall odds, the crappy Detroit Tigers, RIP St. Louis Cardinal Mike Shannon and more.
Crazy Town's Shifty Shellshock is having a bad week. First he fist-fought his bandmate, got kicked off the tour, and now he's been arrested for a DUI.
Grab your EXCLUSIVE NordVPN Deal by going to nordvpn.com/dams to get a Huge Discount off your NordVPN Plan + a Bonus Gift! It's completely risk free with Nord's 30-day money-back guarantee!
Drew Crime: Francisco Oropeza is the worst neighbor possibly ever. Erick Aguirre won't let murder get in the way of his dating life. 19-year-old Cameron Brand was arrested for murdering two teens and injuring four more. Do NOT play Ding Dong Ditch (not Dash or Drive) at Anurag Chandra's house.
Fake Crime: Hussein Hazim Hashim Al-Kharsan has been busted with insurance fraud. QAnon Momfluencer Katie Sorensen created a fake kidnapping.
Groups are calling on Anheuser-Busch and Bud Light to keep up the transgender support. The Fairfax Bar & Grill in Indiana is tired of the controversy since they lost a lot of business.
We found footage of the Corey & Corey Hotline. Lisa Simpson fell for the same scam as well. We roll through the 30 weirdest 900 numbers.
If you'd like to help support the show… please consider subscribing to our YouTube Page, Facebook, Instagram and Twitter (Drew and Mike Show, Marc Fellhauer, Trudi Daniels, Jim Bentley and BranDon). Or don't, whatever.