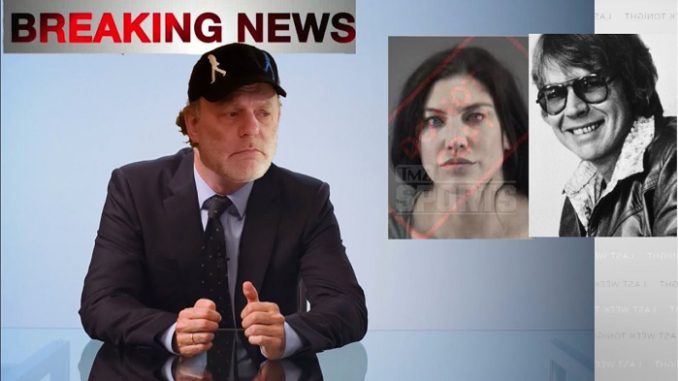 Podcast: Play in new window | Download (Duration: 3:00:11 — 144.8MB)
Hope Solo's DWI, CW McCall Convoy to heaven, Donald Trump comes to town, Drew Crime stories, Kevin Smith cries a lot, best Grammy performances ever, Disney v. Florida, Motel 6's nude manager, and BranDon tries to befriend Spencer Torkelson.
There's brand-new food at Comerica Park this year and Maz somehow weasels into a new Hall Financial grand prize.
Sports: Coach K has been BLOWN OUT of the Final Four and his career by his arch rivals. How about that handshake line? UNC fans went nuts in Chapel Hill. Blue beat the Maize and Colin Kaepernick tryout at half time didn't impress Marc. Spike Lee was at the spring game to film Kaepernick.
Spencer Torkelson News: The 22-year-old has made the team on Opening Day. Miggy passed the torch. BranDon has drafted him on his fantasy team and is trying to be his pen pals.
A Motel 6 in Indiana is in the news thanks to a manager who lives at the hotel and likes to walk around in the nude. We check in with the hotel and read a few reviews.
Drew Crime: 48 Hours covers the murder of Tushar Arte, who wasn't the nicest guy. Dateline tells the story of crazy cop with a hit list. Drew has a myriad of Investigation ID tales on demand.
Donald Trump came to town. He hates the way Meijer's spells their name. The Trump Unity Bridge was in attendance.
Jim Carrey is a sexual predator according to Will Smith defenders. Jim Carrey has since retired (yeah right).
RIP C.W. McCall. A bunch of massive publications picked up Drew's tweets for his death story. Listen to his final interview right here.
Hope Solo (and presumably her BH) was arrested for being passed out behind the wheel with her two-year-old twins in the car. At least they didn't have to go in through the moon roof like some people…
BranDon's taxes are probably going WAY up after Rochester Community Schools had to settle a lawsuit. He blames Andrew Blake.
Eric Church has to do a free concert since he skipped a show to catch the fantastic UNC/Duke game. Travis Tritt was mad because he hates sports.
Taylor Hawkins: Rolling Stone Magazine put out their final interview with Taylor Hawkins. Elton John pays tribute. Dick Marx sings softly for Taylor.
Rolling Stone put out a list of the "best Grammy performances", but a whole bunch are missing. Where is Soy Bomb now?
Royal News: Idris Elba was Meghan & Harry's DJ and surprise… Meghan Markle is a beast. Princesses Eugenie and Beatrice are fraudsters just like mom and dad.
Amazon prices are probably going to go up now that the unions are going to be formed in Staten Island.
Miami PD released body cam footage of a police involved shooting that everyone is going to argue about now.
Social media is dumb, but we're on Facebook, Instagram and Twitter (Drew and Mike Show, Marc Fellhauer, Trudi Daniels and BranDon).