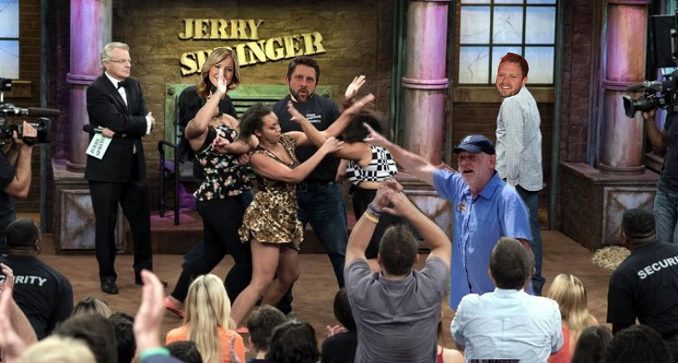 Podcast: Play in new window | Download (Duration: 2:44:17 — 150.8MB)
RIP Jerry Springer, Grand Funk's Mark Farner Zooms in, Tom Mazawey & Ryan Ermanni's NFL Draft party, a brand-new Bonerline, Bam Margera out on bail, Jada Pinkett Smith BLOWN OUT, and the Jim Bentley v. The Hawk feud continues.
Grand Funk Railroad's Mark Farner Zooms in to discuss his references on The Simpsons, the rise after the 1969 Atlanta International Pop Festival, his disdain for keyboards, and promote his show at District 142 on Friday, May 12th.
Grab your EXCLUSIVE NordVPN Deal by going to nordvpn.com/dams to get a Huge Discount off your NordVPN Plan + a Bonus Gift! It's completely risk free with Nord's 30-day money-back guarantee!
Tom Mazawey and Ryan Ermanni join the show to make a final NFL Draft predictions, discuss Ryan's cameo on Jimmy Kimmel Live, and yell over a bar this time instead of a bowling alley.
Joe Biden was busted using a cheat sheet with pre-written questions that would be asked. It's probably for the best. Joe Biden is old.
If you'd like to help support the show… please consider subscribing to our YouTube Page, Facebook, Instagram and Twitter (Drew and Mike Show, Marc Fellhauer, Trudi Daniels, Jim Bentley and BranDon). Or don't, whatever.