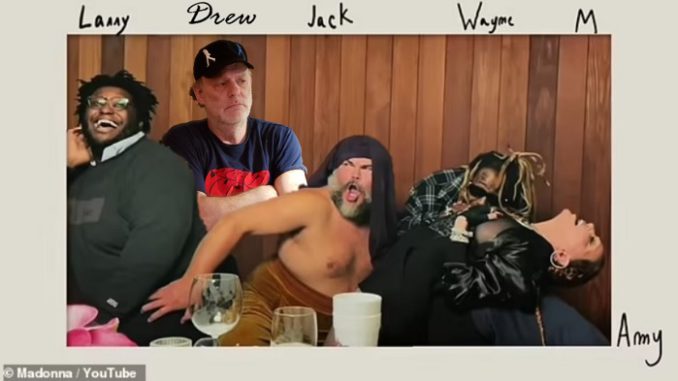 Podcast: Play in new window | Download (Duration: 3:02:01 — 167.1MB)
Jack Black's lowest moment, Joe Biden gaffes, Elizabeth Holmes prison dodge, Drew Crime stories, Bam Margera on meth & on the run, last days of Zappos' Tony Hsieh, and lots of farts.
A listener who works for Anheuser-Busch is worried about the Dylan Mulvaney fallout. Ultra Right beer has risen from the ashes.
According to Lia Thomas, if you don't believe trans-women should be able to dominate females in sports, you are a transphobe. Glen Frank is 6,160th fastest female marathoner on the planet.
Three teenagers have been arrested after tossing rocks the highway leaving a 20-year-old girl dead in Colorado.
E. Jean Carroll took the stand today in her Donald Trump lawsuit. She reveals that The Donald closed that thing up permanently.
Check out Ezra Miller's cool new super blockbuster trailer for "Flash". Amber Heard is back in the DC Universe as well.
Grab your EXCLUSIVE NordVPN Deal by going to nordvpn.com/dams to get a Huge Discount off your NordVPN Plan + a Bonus Gift! It's completely risk free with Nord's 30-day money-back guarantee!
Drew Crime: Drew tells the tale of Angela Johnson and Dustin Lee Honken. We also hear about the tragic murder of Rachel Timmerman in Michigan.
People are still on the lookout for Bam Margera. They think he is hiding somewhere in his car. He has been hallucinating. His friends tried to attempt an intervention but his new girlfriend shut it down.
Morgan Wallen canceled his gig at the very last minute and fans want a refund. His label claims he was not "too drunk".
LaraJuicyTV has postponed her appearance on the podcast, but the good news is she has new fart videos on her TikTok.
Music: Known APW, Ed Sheeran, testified today in his Marvin Gaye plagiarism case. Jack Black's Super Mario Bros. Movie song is a hit. Drew has not forgiven Jack for that video he did with Madonna.
Music II: Metallica's Robert Trujillo uses booze to keep his hair fresh. Lars Ulrich popped up on Conan O'Brien Needs A Friend. Aerosmith is planning a tour.
If you'd like to help support the show… please consider subscribing to our YouTube Page, Facebook, Instagram and Twitter (Drew and Mike Show, Marc Fellhauer, Trudi Daniels, Jim Bentley and BranDon). Or don't, whatever.