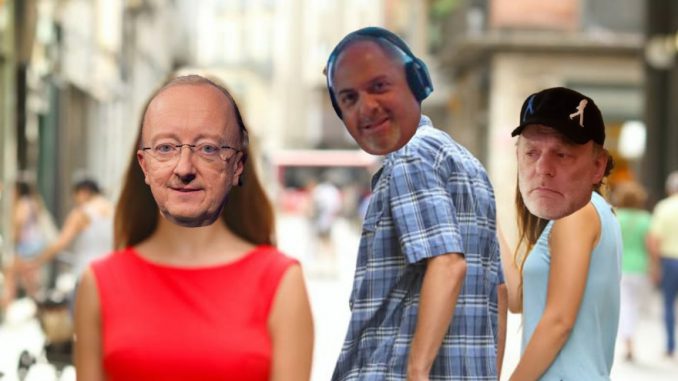 Podcast: Play in new window | Download (Duration: 2:05:48 — 57.7MB)
BranDon (@Pro_Duecer) and Marc Fellhauer (@MarcFell) are here today!
Maz ghosted Drew, NFL Draft postmortem, Eddie Van Halen held Fred Durst at gunpoint, Post Malone covers Nirvana, no one watches Apple TV+, Brits trapped after a music festival, and we love our new Circus of Books drops.
BranDon went shopping with a mask for the first time. At least he didn't wear it while he was driving like some dude in Jersey.
Post Malone, Travis Barker and a couple other dudes put on a pretty rockin' Nirvana tribute for COVID relief.
Fans for the most part like the Detroit Lions draft picks, but the real stories were in the previous social media posts by Jerry Jeudy and some kicker no one has ever heard of, Justin Rohrwasser.
Love is dead: Jay Cutler and Kristin Cavallari are getting a divorce.
On HBO's Real Time, Bill Maher and Dr. David Katz discussed the Cure vs Disease debate and then everybody bailed when Jay Leno showed up.
President Trump's lack of knowledge or his "sarcasm question" about injecting disinfectants led to a ton of memes.
Congrats to Michael Avenatti on getting out of prison because of Coronavirus fears. Elbow bump away!
Aaron Rodgers is mad at the Green Bay Packers again for drafting his replacement just like they did when they drafted him while Brett Favre was the starter.
Weekend watching: Ever heard of 'Life of Crime' starring Jennifer Aniston, Will Forte, Tim Robbins and Isla Fisher? Neither has anyone else in the world except Drew. Meanwhile, Marc caught the Beastie Boys Story on Apple TV+, but wonders if anyone actually watches any shows on the streaming service. Drew invades Marc's Hulu and gets angry at Pete Davidson for playing Pete Davidson in a movie.
30 British people are stuck in Panama because they were indecisive whilst attending of Tribal Gathering, a "journey through time and space".