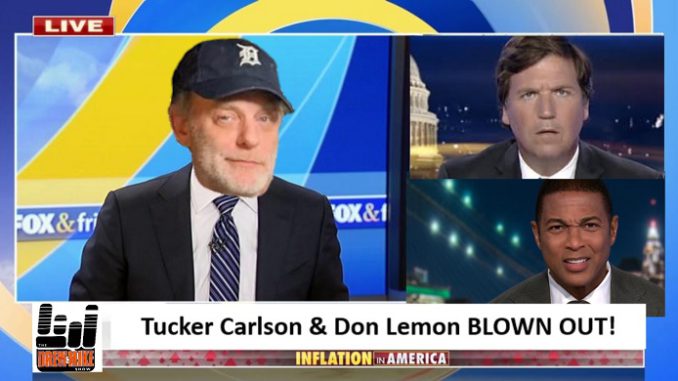 Podcast: Play in new window | Download (Duration: 3:07:25 — 172.0MB)
Fox's Tucker Carlson & CNN's Don Lemon blown out, Drew Crime: Golf Course rapist, BOLO for Bam Margera, Desiigner's "brick hard" flight, Drew's 105.1 nightmares, Kimberly Craig's interview with a fake cop, and Robert Zeidman tells us how he "Proved Mike Lindell Wrong".
Tucker Carlson has been let go by Fox News on the orders of Rupert Murdoch. Don Lemon has finally been fired from CNN.
Charles Barkley and Gayle King are hosting their own weekly show on CNN. The show has the dumbest name: King Charles.
The New York Jets have acquired Aaron Rodgers from the Green Bay Packers. Rodgers goes on to completely diss Joe Namath.
Coachella: Jeff Bezos and Lauren Sanchez choppered to Coachella with Kris Jenner & Corey Gamble. Frank Ocean bailed on the headline gig. Ocean's set put Justin Bieber to sleep.
Some people are saying Pete Davidson is going to run into Taylor Swift. Pete is busy fighting off fans at Knicks games.
Grab your EXCLUSIVE NordVPN Deal by going to nordvpn.com/dams to get a Huge Discount off your NordVPN Plan + a Bonus Gift! It's completely risk free with Nord's 30-day money-back guarantee!
If you'd like to help support the show… please consider subscribing to our YouTube Page, Facebook, Instagram and Twitter (Drew and Mike Show, Marc Fellhauer, Trudi Daniels, Jim Bentley and BranDon). Or don't, whatever.