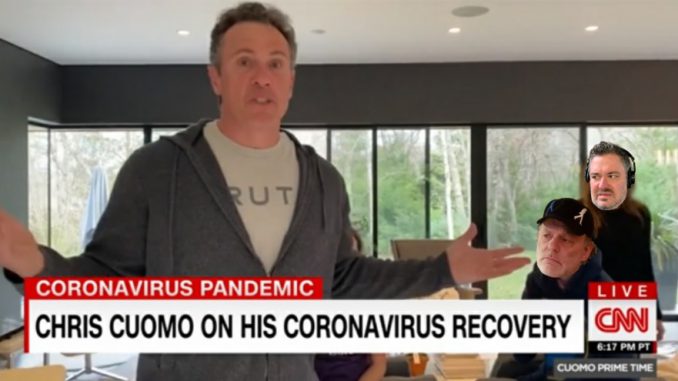 Podcast: Play in new window | Download (Duration: 2:16:12 — 62.5MB)
BranDon (@Pro_Duecer) and Marc Fellhauer (@MarcFell) are here today!
Hothead Chris Cuomo's fake news, Kim Jong Un death watch, Detroit's best reporter is Tay Crispyy, ABNN back in action, Gen Z v. Coronavirus, and we remember Mike Clark on his birthday.
Drew's house sucks even more now with the Coronavirus… but his lawn got mowed! Thanks to Tan Rob.
It seems like the only way to get your season ticket money back from the MLB is to file a class action lawsuit.
The Royal Oak mayor wants Commissioner Kim Gibbs to step down for attending Operation Gridlock in Lansing.
Seven voters in Milwaukee came done with COVID-19 after the Supreme Court said they couldn't move the election in Wisconsin.
ML Erick had a piece in the Free Press about Amber Gorby, who was fired for following Michigan's stay-at-home order.
Detroit's best street reporter Tay Crispyy is on the scene of people defying the Governor's shelter in place order to watch some sweet car stunts.
Some states are tired of waiting and are opening back up despite not meeting the federal guidelines.
Breaking ABNN News: Lamar Jackson wants AB on his team and Antonio violates his 'No More White Women 2020' rule.
Reminder: Scottie Pippen's dong is huge.
Mass shooting desensitization and Coronavirus helped us miss the fact that Canada had its worst mass shooting.
Zooves meal planned this morning by making 7 burritos.
Gronk is back in the NFL as his rights have been traded to Tom Brady's Bucs. Meanwhile, Tom Brady is breaking quarantine laws.
The Boner Line loved the Nick Lachey remix of the Hardest Thing almost as much as they love Righteous Rick. Call/text (209)-66-BONER to let us know you want more of both on the show!
Since the Boner Line was digging Nick Lachey so much, we listen to his tribute to Bill Withers & check out a few more videos on his Instagram.
Chris Cuomo pretended he just left his basement for the first time since his COVID-19 diagnosis even though he went ballistic on a cyclist who spotted him in his front yard playing with his family last week. It turns out that he's always been quite the hotheaded "cry baby".
GMA interviewed Val Kilmer to promote his book and because they wanted everyone to hear how he sounds post throat cancer.
Ed Bassmaster isn't using his best bits for his Cameo shoutouts & some people are saying Mama June is wearing a mask during her videos to cover up missing teeth.
Supreme leader of North Korea Kim Jong Un is reportedly in bad shape after undergoing emergency heart surgery.
There's a new twist in the Lori Loughlin college admissions scandal, but Drew is so Aunt Becky'd out that he didn't even bother to figure out what was going on.
Students from MSU, WSU & the University of Michigan are suing the institutions for refunds on tuition & housing they feel they didn't receive as a result of the pandemic.
Text messages released from court documents show Prince Harry & Meghan Markle frantically texting Thomas in an attempt to stop him from going to the press.
Dina Lohan is jumping on the podcast trend with her show Listen to Me, OG Mama D that is destined to podfade out of existence.