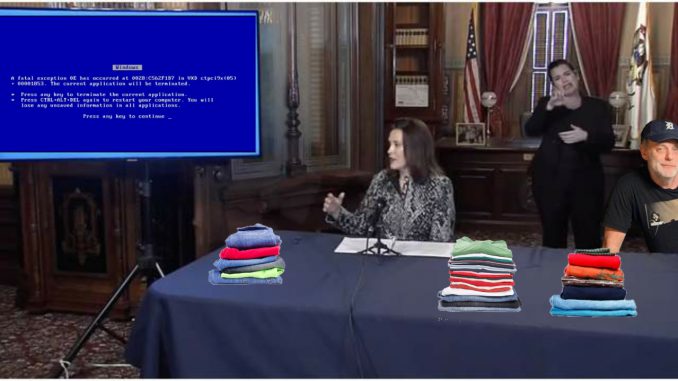 Podcast: Play in new window | Download (Duration: 2:36:54 — 72.0MB)
Trudi Daniels (@TrudiDan) & Marc Fellhauer (@MarcFell) are here today!
Gov. Whitmer's confusing rules, AG Dana Nessel's divisive tweet, a talk with a 93-year-old that needed beer, Bill Maher v. China, SNL's "experiment", no concerts until fall of 2021, and the Top 50 Albums of the 90's.
Our Facebook Live was poppin' with a record number of live viewers. Check it out daily on Facebook around 4ish.
We take a tour of Trudi's room, where she has a non "stupid present" hanging on the wall.
Hey Jude's lyrics sold for almost a million dollars and we have a feeling we know who was the buyer.
If you're a black golfer & white heath care workers are dying then, and only then, will AG Dana Nessel "hear about" your complaint. Too bad for OJ Simpson that she's not his AG.
Bill Maher pointed out why labeling the Coronavirus 'China Virus' isn't politically incorrect and not important on the latest Real Time.
Everybody in Tiger King has such strange modes of transportation. There are talks of a Tiger King movie since the world can't get enough Joe Exotic.
Seems like everybody working from home has a guitar in their background so you know how deep they are.
Drew could totally make-out with his neighbor Dennis safely since Dennis already has Coronavirus antibodies.
A 93-year-old in Pennsylvania was seen begging for beer from a big sign in her front window to help her deal with self-isolation. We call Olive Veronesi to congratulate her on going viral & check on her stash.
The concert business is looking at the possibility of no shows until the fall of 2021 leaving the Rolling Stones ample time to run around with Drew's $4K.
'One man banging machine' Julian Assange managed to have two children while stuck in an Ecuadorian embassy.
Aunt Becky has managed to stay in the news cycle for over a year after bribing USC to let her daughter Olivia Jade into the college on a rowing scholarship.
Mossimo Giannulli went ballistic on a school counselor who wasn't in on the college admissions scandal & questioned his daughters' qualifications.
Back in '87 two men in Ada Oklahoma confessed in great detail about the murder of a woman that they may not have actually murdered, leading to the documentary "The Innocent Man".
Dateline reran their segment on a man who got kidnapped, strapped with a bomb & forced to rob a bank by a creative duo that managed to evade the police.
Drew's new book The Art of Rock is packed with a lot of sweet classic rock & punk posters throughout the years.
Retail has a lot to recover from including Macy's & other big name department stores who are in some serious trouble.
If your travel plans were cancelled due to Coronavirus good luck getting a refund from the airlines.
A 64-year old in France accidentally ejected himself from a fighter jet after wondering what that button did.
Nobody understands love more than Kate BeckinsDale who is currently robbing the cradle with a much younger boy.